OP ED: THE TROUBLE WITH COLOR
In my role as a visual effects compositing teacher, trainer, and author I have encountered hundreds of visual effects artists (over 600, actually). One thing I've often encountered is a lack of a solid understanding of color – specifically digital color, where color hits the computer. I've identified two causes of this trouble with color. Read more at The Trouble with Color
---
COLOR FOR DIGITAL ARTISTS WEBINAR - September 8th - 12th
Not sure about color theory, histograms, LUTs, bit depth, gamut or gamma?
Check out Steve's new webinar all about digital color specifically for artists, not color scientists. This 2+ hour streaming video will be available 24 hours a day over a 5 day period so you can watch it at your convenience and it only costs $59.95USD.
Get a $10.00 discount off the ticket price by uisng promo code NEWS10
View the covered topics and watch the preview videos to see what the webinar is all about!
Ticket sales end on September 11th at 11:30pm PDT.
---
2-DAY NUKE INTENSIVE IN L.A. SEPTEMBER 24 & 25
Join Steve for a two day Nuke intensive workshop at RFX in Los Angeles on Monday and Tuesday, September 24 & 25. This is a unique Nuke workshop that teaches the hard to learn core concepts of Nuke so that you can build on this foundation yourself. Learn more.
---
CLASSIC GAMING EXPO SPEAKER
Because of Steve's 6 years at Atari during the video game boom of the 80's he was invited to be a keynote speaker at the Classic Gaming Expo 2012 in Las Vegas. Steve's talk merged his early video gaming career with his current career in visual effects by tracing the early history where movies were made into games but now games are made into movies.
---
STEVE'S BOOK TO BE TRANSLATED INTO CHINESE
Steve is pleased to announce that his publisher, Focal Press, has signed a contract with Beijing World Publishing Corporation to translate his introductory compositing book "Compositing Visual Effects" 2nd edition into Chinese. This joins other translations of Steve's books into Spanish and Korean.
---
STEVE JOINS THE SOCIAL MEDIA CRAZE!
We've joined the social media craze! Friend us, Follow us, Like us, or Love us or whatever you hip social media types do!
---
REMOTE LEARNING WITH STEVE
You can now get unique one-on-one or group personal training from Steve anywhere in the world utilizing the latest desktop sharing technology. If you have a high-speed internet connection you can sit virtually side-by-side with Steve as he demonstrates visual effects compositing techniques on your workstation.
He has conducted such personal training in Canada, Mexico, Great Britain, Germany, France, Spain, Italy, India, Argentina, Brazil, China and across the United States on whatever topics the artist requested - compositing with log images, Nuke's unique color management, exotic 3D compositing techniques and stereoscopic compositing, or powerful bluescreen and greenscreen keying techniques. Steve has even conducted "virtual lectures" at colleges and universities such as Ringling College, Syracuse University and the Rochester Institute of Technology.
View our list of online one-on-one workshops with Steve. Visit vfxio.com to contact Steve if you would like to arrange some personal training.
---
STEVE WRIGHT'S VFXIO.COM: WHO WE ARE
Master Trainer, Steve Wright, delivers visual effects compositing, Nuke, Ocula, Mocha, Shake and 3D Conversion training to the VFX industry around the world. With curricula developed by this senior visual effects artist and Foundry Certified Nuke® Trainer with over 20 years of production experience and excellent teaching skills, these programs are designed to be very accessible and cost effective.
Steve not only teaches online and in the classroom, but he also travels to VFX facilities around the world to train the studio's VFX staff in skills & compositing techniques gleaned from those years of production experience as well as to improve the facility's 2D/3D production pipeline productivity. Visit vfxio.com today to learn about our VFX compositing training opportunities!
---
3RD EDITION NOW AVAILABLE!
The third edition of Steve's very popular Digital Compositing for Film and Video, a.k.a "The Compositor's Bible" is now available at bookstores like Barnes & Noble or on Amazon.com.
Reflecting important new trends in the visual effects compositing industry, major new sections have been added on stereo compositing, multi-pass cgi compositing, and 3D compositing. Since many compositors are strictly 2D folks, there is also a primer on 3D animation to help with key terms and concepts. Order your copy today at Amazon.com
---

---
"The Compositor's Bible"
-Jeffrey Jasper
VFX Supervisor
New Deal Studios

---
Industrial Strength
Training
for
VFX Compositing
Artists!
*Nuke training
*Mocha training
*Shake training
*3D Conversion training
*VFX technique training
*VFX staff training
*Online workshops
*One-on-One workshops
*Location-based training
---
Industry Events
---
2nd Edition
NOW AVAILABLE!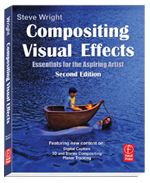 "A must have for my animation and special effects classes"
- Larry Elin
Associate Professor
Radio/TV/Film
Syracuse University

---
STEVE'S WEBINARS!

Missed any of Steve's awesome webinars...no problem! Visit Moviola's Filmmaking Webinar site to purchase your On-Demand archive today!