NUKE 3D COMPOSITING WORKSHOP - Starts 7/30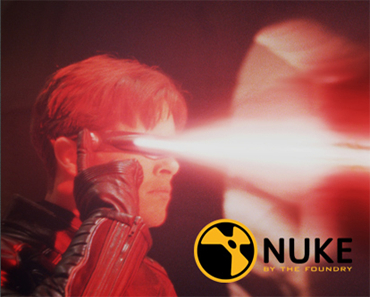 This 6 week workshop is for those artists that want to go beyond 2D compositing and advance to 3D compositing. We'll dive into Nuke's awesome 3Dcompositing capability and cover the several major new features introduced in Nuke 6.3.
We will thoroughly cover the basics like creating 3D geometric primitives, adding lights, cameras and shaders, plus texture mapping and animating geometry, 3D compositing workflow techniques, including the all-important camera projection, the planar tracker, the 3D particle system plus a whole lot more!
3D artists will appreciate this informative introduction to Nuke's 3D capabilities!
A fully functional Nuke license is included for the duration of the workshop.
Enrollment closes on August 3rd or when workshop is full!
For more information or to enroll in this workshop visit
http://workshops.cgsociety.org/courseinfo.php?id=268
---
JOIN STEVE ON FACEBOOK & TWITTER
Stay up to date and check out the haps on Facebook and Twitter!

stevewright

@nukeguru
---
UPCOMING WEBINAR ON COLOR
Coming soon in August Steve is presenting an on-line webinar titled Digital Color for Artists. It's made for digital artists of all types - vfx, cgi, motion graphics, editors and photographers. It presents color theory, color correction, and color attributes in an easy to digest form. Understand contrast ratios, HSV color, histograms, secondary color correction, color curves and what all those darn sliders in Photoshop's Levels tool do.
---
VFXIO.COM GETS A FACELIFT
Our vfxio.com website got a little facelift recently. Check out all of our course offerings under the training button.
---
ABOUT STEVE
Steve Wright is a 20 year visual effects veteran with compositing film credits on over 70 feature films and 70 television commercials.
As a Master VFX Compositing Trainer and a Foundry Certified Nuke® Trainer, he now travels around the world conducting digital compositing training for major visual effects studios, creates custom training programs, conducts location-based and online workshops, and has written two highly successful books on digital compositing, "Digital Compositing for Film and Video" and "Compositing Visual Effects", both available on Amazon.com.
To date, Steve has trained over 600 Nuke artists both freelancers and staff artists at over 25 VFX facilities world-wide. His extensive client list includes Pixar Animation Studios, Disney Feature Animation, Prime Focus, Reliance MediaWorks, Ubisoft, and many, many more.
LINKS

---
"The Compositor's Bible"
-Jeffrey Jasper
Compositing Supervisor
New Deal Studios

---
Industrial
Strength
Training
for
VFX Compositing
Artists!
*Nuke training
*Mocha training
*Shake training
*3D Conversion training
*VFX technique training
*VFX staff training
*Online workshops
*One-on-One workshops
*Location-based training
---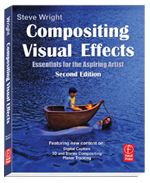 "A must have for my animation and special effects classes"
- Larry Elin
Associate Professor
Radio/TV/Film
Syracuse University