Steve's Favorite Links
These are links that Steve has checked out and found to be of interest and value to members of the VFX Compositing community. If you have a site that you think would be benificial to the VFX Compositing community and would like to link back to our site, please contact us and fill out the feedback form to send us an inquiry with the subject line of Link Partners under comments and questions. Please do not send link requests if they do not specifically address the visual effects community!
educational service providers
SHAKE SUPPORT

Billy Woody is a former Apple Shake Support Engineer that now offers Shake technical support at reasonable rates. He serves individuals as well as facilities at shakesupport.com.

NEW! Phyx is currently offering Phyx 2010 for Shake a collection of 46 powerful plugins for Apple Shake to help users build shots intuitively with highly optimized tools. Phyx plugins are designed to increase user interactive efficiency and maximize the quality of work performed in Apple Shake. Also available is the Phyx Keyer consisting of 5 powerful plug-ins for all your keying needs!
ORGANIZATIONS

L.A. ACM Siggraph is the Los Angeles chapter of the Association for Computing Machinery's Special Interest Group in Computer Graphics (ACM Siggraph). Their goal is to bring members the latest developments in the field of computer graphics including Animation, Visual Effects, Motion Capture, Multi-Media, Internet and Web Design, Virtual Reality, and others.

The Visual Effects Society is a professional organization for visual effects practitioners in the entertainment industry including artists, technologists, educators, studio leaders, VFX supervisors, and producers. Join the VES today and become an active member of this vibrant community.

The Digital Cinema Society is an organization for entertainment industry professionals and students to disseminate information about the rapidly evolving world of Digital Cinema. They currently have over 3500 members, including some of the top filmmakers, technologists, and business leaders in the entertainment industry.

Digital Media Arts / Los Angeles (DMA/LA) is an association for professionals creating imagery for video, film, and other media using desktop tools. DMA/LA's areas of discussion are the full range of 2D and 3D tools used to fulfill the artists vision. They have approximately 2000 members.

LAFCPUG is a forum community that addresses the Final Cut Studio 2 suite of applications that include: Final Cut Pro 6, Compressor, Soundtrack Pro, DVD Studio Pro, Color, Motion and LiveType.
COMPOSITING RESOURCES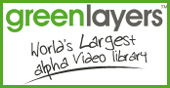 Greenlayers.com is a huge new greenscreen clip library featuring very high quality stock footage shot in HiDef video (1920x1080) offered at incredibly reasonable prices of $10 to $50 per clip. They offer a vast range of scene content that you can preview as a composite in your browser using their "Green Room" compositing feature.

VFX Showrunner is a VFX production pipeline management software package. It tracks the progress of each shot, communicates shot notes between artists and management, tracks assets, and assists in scheduling, budgeting, and cost tracking – even for shows that are produced at multiple facilities.
GENERAL RESOURCES

Need a job? Join Siggraph today and you will regularly get emails like this one to let you know about jobs in the visual effects industry! See listing!
The Pixel Corps is a guild for the next generation of digital artisans. They are dedicated to delivering much of what was provided to traditional guild members historically, such as training, certification, and guild support and offer very cost effective training and support for digital artists.

Creative Cow is a peer to peer support community for media production professionals with dozens of forums on topics like, Maya, Adobe After Effects, Final Cut Pro, Avid, Sony Vegas, DVD authoring, Sony's CineAlta camera, Indie Film & Documentary forum plus a whole lot more!